South Beach Seafood Festival
October 23-26, 2024 In Miami Beach, Florida
The 12th Annual South Beach Seafood Festival is back to take over Miami in October on the sands of South Beach between October 23-26, 2024! This Florida seafood festival is not your typical east coast seafood festival, but a curated showcase of the best talents of South Florida's leading chefs and culinary masterminds via a diverse group of events, where guests experience the best seafood in Miami and kick off world renowned stone crab season.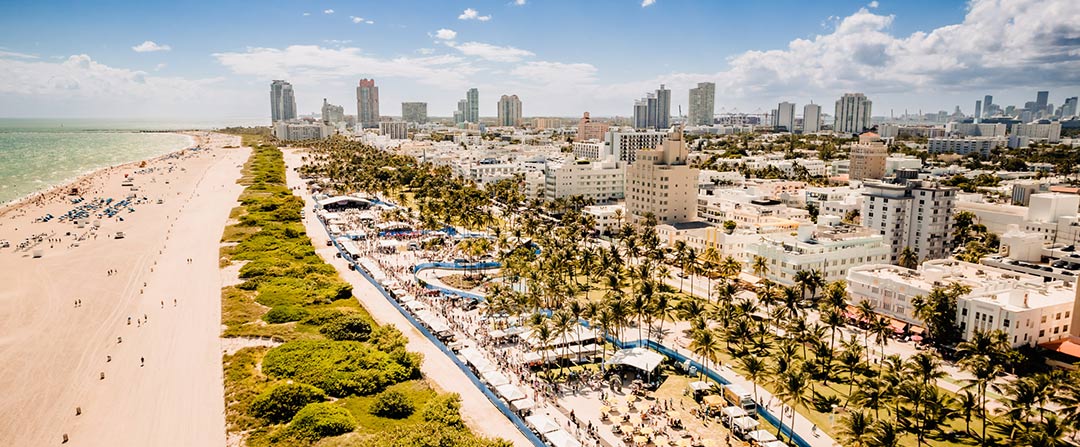 Annually, brought to you by Breakthru Beverage and partners, and produced by CI Management, this event is touted by USATODAY as one of its Top 5 Specialty Festivals in the country, listed by Forbes in 2019 as Top 5 things to do this fall, and by the Travel Channel as the best seafood festival in the US. When you hit Miami in October, the South Beach Seafood Festival is the place to be for four days of fun, all to benefit a great cause in Miami Dade County with CI Foundation's EAT SMART program, a program that provides healthy meals and nutritional guidance to Florida's youth with programs in Miami Dade County public schools.

Saturday's beachfront seafood festival, brought to you by Herradura and hosted by the City of Miami Beach, spans four blocks and welcomes over 15,000 seafoodies to enjoy a day of fun in the sun. Indulge at hand selected pop-up cafes from Miami's best restaurants with the freshest seafood menu items to choose from, paired with 30+ complimentary open bars for 21 and over, fun and games, culinary demos in the  Milam's Markets Culinary Showcase, Rockwell DJs, (3) Live Music Stages, and so much more – right in the heart of South Beach!

A seafood event like no other, South Beach Seafood Festival includes a week of nightly culinary events leading up to Saturday, including:
Wednesday's unforgettable An Evening at Joe's, featuring epicurean masterpieces from historic Miami seafood restaurant, Joe's Stone Crab. This incredibly exclusive event hosts 50 VIPs in Jesse's Room, the famous private space where greats like Al Capone and Frank Sinatra cracked claws.
Thursday's Crabs Slabs & Cabs, , An all-inclusive evening of indulgence reimagined as a 5-course seated dinner experience featuring the ultimate surf n turf dinner and wine pairing. Hosted at Hide Tide at the Kimpton Surfcomber Hotel, enjoy a one of a kind dinner experience.
Friday's incredible VIP Chef Showdown, the ultimate night of competition where the best South Beach chefs hit the sand for an epic throwdown beach bash. 20 chefs. 10 battles. 1 1/2 blocks are serious culinary celebrations on the sands. Sounds by Yissel top off the night's entertainment. Taste every seafood dish and #ChooseYourChamp because you're the judge!
Are you ready to stay and experience the best of the best of South Beach festival extravaganzas? Seafoodies around the world—let's do this in Miami Beach, Florida!.